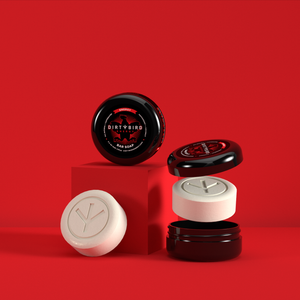 In a Reusable Case or Compostable Refill Pack
We're here to change the way you think and feel about your soap. It is simple -at DirtyBird, we are inspired by People that shower Twice A Day. We have spent years perfecting our soap just for you -to keep your skin safe from harsh and harmful ingredients and to help you get through every moment of the day. Scientific testing has shown that we are absorbing the majority of what is in our soap. So Natural Clean Plant Based Ingredients matter. No Bad Stuff and Nothing Harsh!
Our three pillars
Each decision is anchored by three crucial pillars: family, health and productivity. 

DirtyBird Energy uses sustainable manufacturing methods and sources natural ingredients to improve health and performance for current and future generations.
Family
We only create products that are safe and healthy for all families, and we strive to improve the lives of those we love. This includes sourcing natural ingredients, and manufacturing our products in a sustainable manner, to benefit future generations.
Health
We're taking a stand against traditional bar soaps and body wash that contain synthetic and harmful chemicals. We're committed to creating a soap using only high-quality, natural, healthy ingredients. Like palm and coconut oils to cleanse and hydrate, essential oils to soothe and heal, biodegradable exfoliating beads to smooth skin, and a dash of caffeine to energize.
Productivity
We're committed to creating body care products that increase productivity and performance in busy individuals. Whatever keeps you busy—family, career, hobbies, training —we want you performing at your best. Each of our recipes are concocted with natural ingredients in an effort to support your goals and intentions.
The Soap
Our soap bars are milled not sliced. Not that we are calling the other soap makers lazy, because soap making is hard work, but we do go the extra steps for you. Milling removes moisture to make a bar of More soap and Less water. The end result is richer lather and a longer lasting bar. So we feel it is worth the effort. We also choose ingredients to help you get through every moment of the day. Whether you need help waking up, just finished a tough workout sesh or winding down for rest, our soaps are designed for you in those moments. We use sustainably sourced, natural oils—like coconut and sunflower. Only The Good Stuff!
The Caffeine
Studies have shown that the antioxidant properties and acidity of coffea arabica are healthy for our skin. When added to our skin care, caffeine can energize and tighten the skin for overall better health and appearance. Now, we have always been obsessed with the fact that studies have shown caffeine can be absorbed through the skin. However it is hard to know how much or if any caffeine is absorbed during a shower. This is due to many factors: How much is applied, how long, and every person is different. So we remain focused on skin health and the benefits caffeine brings to that effort. Over the years, we often hear "I don't know if the caffeine is doing anything but after using the Original Bar, I feel awake in the morning and my skin feels great". This is why we keep seeking out new innovative Healthy ingredients. Caffeine is only one of the innovative ingredients that we are infusing into our soap. Checkout our Recover formula for a great experience after a tough workout sesh.
THE CONTAINER
Our body care products come packaged in our reusable container that is more robust and portable than ever. Once twisted shut, you can take our soap anywhere—the gym, camping, traveling, anywhere. When you are done reusing, please recycle.
Pacific Northwest Based
DirtyBird Energy was created to change the way you think and feel about your soap.